Tell Your Readers About This Workshop And Allow Me To Help Them Easily Get More Traffic Using Facebook While YOU Make Money!
Launch Dates: This Is An On Going Evergreen Offer!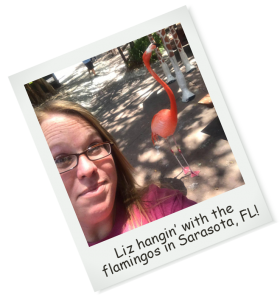 Hi there!
Liz Tomey here and thank you for helping me out with my latest LIVE workshop promotion.
The Facebook Traffic Takeover Workshop is a live workshop where I'm showing people my personal strategies for getting traffic through Facebook, PLUS personal coaching with me on using Facebook in their business. Your people have the chance to get a spot in this online workshop and learn from me personally on how I use Facebook to market my business and get traffic.
You can see exactly what I'll be teaching them on the sales page by clicking here.
You'll see they not only get to attend the workshop, but they also get access to me, the Facebook mastermind group I created for these training, and ALL updates as I continually update these workshops.
You'll be paid 50% commissions on the $97 attendee option unless you use the $50 off coupon code, but more on the coupon code below.
There is no sales funnel. It's simply this workshop with no upsells or anything like that. In the future that will be changing, and I'll notify you when it does.
If you need promotional tools to promote this workshop you'll find them below!
If you have any comments, questions, want to add a bonus or anything like that I'm just an email away... I look forward to your support on this and helping you in the future with anything you may have that I can support YOU on!
Get On Liz's Launch Updates List!
Enter your name and best email to get updates sent to you about Liz's launches… This is an affiliate notification list only. You will ONLY be notified about launches and launch updates.
Promotional Emails: Use these emails for ideas to create your own emails OR use them as is to send to your list.
Coming soon…
I'm sure you've heard of the site called Pinterest, right?
Well if not, it's basically a "visual search engine". People search for things there and the search results are all returned as images. They call them "pins".
I've spent hours at a time there before. There's just so much great stuff.
And I'm not the only one. 🙂 There's over 250 million current users there!
That's a lot of people and those who get there content there can tap into that traffic and get a load of it to there own sites.
But it can be a daunting task if you don't know what you're doing.
That's why when I found the Pinterest Traffic Takeover Workshop I got REALLY excited!
AFFILIATE LINK
When you get your seat in this workshop you'll be lead through 5 days of everything you need to know and do to get setup on Pinterest and how to start using it to get traffic to anything you want.
Yes… Anything! (Probably not the "naughty" stuff or other "bad stuff". Pinterest does have it's own standards like all other search engines.)
And the best part about it is it's lead by Internet marketing expert Liz Tomey who will be there every step of the way with you to help you!
This is like having your own Pinterest traffic coach.
As you're going through the workshop you can ask Liz questions directly, have her review your work, or anything else you need.
PLUS there's a very active Facebook group full of other people going through the workshop that you can network with, bounce ideas off of, and so much more.
I've never seen this level of coaching and hold your hand help in an offer at such a low price!
If you've been wanting to get more traffic to any of your websites, offers, links, ect then this would be a great strategy to learn while getting any help you need.
Grab your seat at AFFILIATE LINK
Talk soon!
YOUR NAME
Want me to write an email from the angle of your request? Just send me a message and let me know the angle you want me to write the email for you and I'll create one for you! 🙂
Promotional Content: Use the following content as blog posts or content you're allowed to post in other places such as your Facebook pages, groups, etc.
Promotional Images: Use any of the images below on your blog or social media!
Why You SHOULD Promote This Offer 🙂
Your people are safe with me! I take good care of my customers and I'll take good care of yours too!
I reciprocate! If you have an offer that fits my list then I'll happily promote your offer for you to my list!
This is a great opportunity for your people to learn "hands on" from someone who has been teaching Internet marketing tactics for almost 15 years now! They're getting someone who can truly help them!!
I'm providing you with some great resources and tools to use to promote this offer, and if you need anything I'll customer create it for you!
Because it's just the right thing to do! 🙂
Most Importantly - Thank You!
Thank you! I truly couldn't have the business and the ability to help so many without YOU! Thank you for your support and trust...
Okay... I think that's everything! If there is anything I can do to help you please do let me know. I'll be more than happy to help you out!

* Reciprocal mailings will only be given on quality products! We value our customers, so please understand if we don't feel your product makes our quality standards we will not promote it. But that doesn't mean we will never promote for you. If your next product meets our standards we'll promote it. I don't think this is going to be an issue (never has been) because I work with a bunch of awesome people.
As an Affiliate you agree to the following: The new FTC Guidelines for affiliate marketing came into effect on December 1st 2009. As an affiliate or JV partner for Liz Tomey, you've read and fully agree to the terms listed on the Official FTC Website (http://www.ftc.gov/bcp/guides/guides.shtm) to ensure that you're promotions are compliant with the new guidelines.